Opera Mini browser beta
Opera Mini Beta – Test Exciting New Features of the Opera Mini Browser
If you want a fast and reliable mobile browser which allows you to access the internet without consuming a great deal of data then this mobile browser is ideal for your needs. Opera Mini Browser Beta is a useful app which offers you the chance to browse the internet while saving data and avoid viewing any ads. It is the beta version of Opera Mini which provides you the chance to test the new features that the developers are introducing in its latest version. Opera Mini beta has an intuitive user interface and a simple layout and design which makes browsing a fun exercise for even novice users. It is a little intrusive but doesn't compromise your privacy.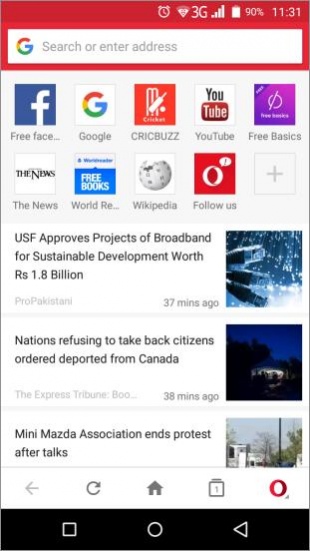 Opera Mini Browser Beta offers you fast browsing speed and can help you connect to your favorite websites within seconds. It has a quick dial feature which allows you to pin websites on the home screen of the browser. The browser has some popular websites already available while you can add new ones simply by clicking the + button and entering the website URL. You can visit the websites on the quick dial with a single click without having to enter their complete URLs again and again. Opera Mini beta lets you unpin websites from the quick dial as well if you want. To unpin a website you simply have to tap and hold its quick dial button and then drag it to the Remove option.
The best feature that Opera Mini Browser Beta brings to you is that of data saving while browsing. With this mobile browser, you will get the chance to access the heaviest websites without spending too much of your data. Opera Mini beta will optimize the website for your device and ensure that you consume the absolute minimal amount of data. This will prolong the mobile data that you have available and let you browse the internet for a longer period of time. Aside from saving mobile data, this mobile browser provides you the opportunity to download web pages on your device so that you can view them even when you are offline.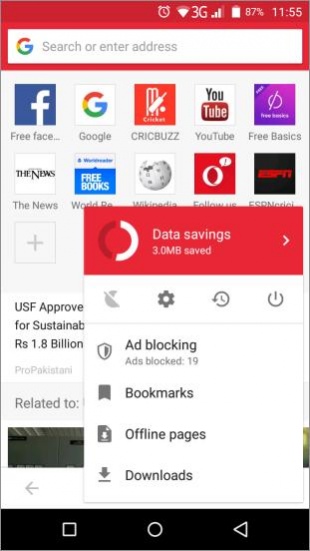 Another feature that Opera Mini Browser Beta introduces is ad blocking. This feature lets you block the unnecessary ads that popup when you visit certain websites. The ad block feature also helps in saving your mobile data too. With the ads blocked, you will be able to view any website in a hassle-free manner. Opera Mini beta offers various topics for you to receive news updates about. You can select the topics that you want the new updates for and also pick the language that you want to read the updates in. If you wish to browse privately, leaving no history of your internet activity behind then you can do so by opening a private window.
Features
Intuitive user interface
Simple layout and design
Fast browsing speed
Save data on browsing
Avoid viewing ads
Pin websites on browser home screen
Select topics for getting news updates
Multiple languages to view news updates in
Option available for private browsing
Download web pages for offline viewing
Various customization options
Conclusion
Opera Mini Browser Beta is an app designed for people who want to quickly access their favorite websites on the internet. It provides them the opportunity to save your data while browsing and block the annoying ads that popup when viewing certain websites. It is definitely a nice app to have on your phone especially if you want a quick mobile browser to surf the internet.
RELATED PROGRAMS
Our Recommendations
---
---
---
---